45th Infantry Division Museum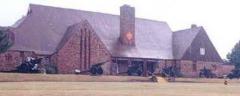 The 45th Infantry Division Museum is the nation's largest museum depicting the military history of Oklahoma, and features personal items collected from Hitler's apartment.
The museum includes a fascinating display of memorabilia collected from Hitler's apartment when it was captured by the 45th. A collection of over 200 original "Willie and Joe" cartoons, displays from 1541 through WWII, the Korean War and Desert Storm, original uniforms, firearms, dioramas, and an outdoor military park with over 60 military vehicles, aircraft and artillery.