5th Maine Regiment Museum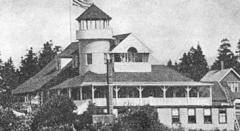 This museum is a civil war memorial and a cultural center in Peaks Island, Maine.
The Fifth Maine Regiment Memorial Hall is a National Register property built by Civil War veterans in 1888. The collections include Civil War artifacts as well as and Peaks Island memorabilia. Regimental history and Peaks Island history are the center's unique features. The museum provides special programs such as the The Peaks Island Military Reservation Historic Trail, video viewings, and other outreach programs.