Acorn Hall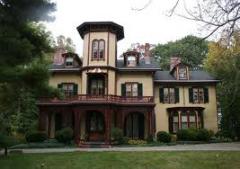 Headquarters of the Morris County Historical Society are located at this historic, Victorian-Era home.
Acorn Hall, named for one of the largest and oldest red oak trees in New Jersey, symbolizes the Victorian Era in Morris County. This Italianate Victorian mansion built in 1853 housed two families--the Schermerhorns and the Cranes, who like many others, moved to Morristown to escape the noise and congestion of New York City.  Today Acorn Hall remains the most intact and authentic Victorian House in Morristown. 
Acorn Hall, headquarters of the Morris County Historical Society since 1971, includes a Victorian Research Library, the only one of its kind in New Jersey. Gardens designed and maintained by the Home Garden Club of Morristown feature flowers and shrubs typical of nineteenth century landscapes.