Alexandria Township Historical Society & Prevost House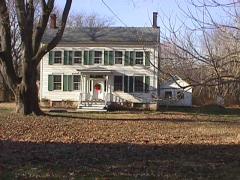 The Alexandria Historical Society meets the 2nd Thursday of the month at 7:30PM. Meetings are held at the Museum of Local History (The Prevost House) at 1100 Frenchtown-Milford Road. Check the Delaware Valley News and the society's website for information on featured speakers.
The Prevost Farm House on the Milford-Frenchtown Road was donated to the Township and is being leased to the Historical Society for $1 a year. It opened as an historical library and museum to hold many of our interesting acquisitions related to the township and surrounding area. It will be open to both school children and the community.
The Society is seeking contributions of furniture, pictures, books, maps, documents and clothing of the 1800's period to add to the collection.