Alfred B. Maclay State Gardens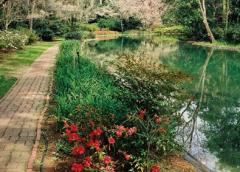 These beautiful ornamental gardens were first planted in 1923 by Alfred B. and Louise Maclay after they purchased the property for their winter home. A masterpiece of floral architecture, the gardens feature a picturesque brick walkway, a secret garden, a reflection pool, a walled garden, and hundreds of azaleas and camellias. Lake Hall provides opportunities for swimming, fishing, canoeing and kayaking. Only boats without motors or with electric motors are allowed.
Pavilions and grills along the lake shore provide the perfect setting for a picnic. For walking enthusiasts, two short nature trails meander through the woods overlooking the lake. Hikers, bicyclists, and equestrians can enjoy five miles of multi-use trails winding through the woods surrounding Lake Overstreet, located on park property adjoining the gardens. High blooming season is from January 1-April 30 with the floral peak in mid-to-late March.