Arkansas Post National Memorial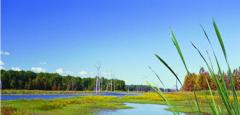 Arkansas Post became part of the United States following the Louisiana Purchase of 1803. By 1819, the post was a thriving river port and the largest city in the region and selected as the first capital of the Arkansas Territory.
During the Civil War, Confederate troops tried to maintain tactical control of the confluence of the Arkansas and White Rivers, and in 1862 they constructed a massive earthen fortification known as Fort Hindman at the Post. In January 1863 Union troops destroyed the fort, ensuring control of the Arkansas River.
At the Visitor Center and Museum, visitors are invited to view the park movie, "Arkansas Post: Echoes of the Past" and explore museum exhibits reflecting over three hundred years of human history at Arkansas Post. Visitors can also immerse themselves in the natural beauty and tranquility of over two miles of trails winding through the historic town site and an ancient hardwood forest.