Arlington House, The Robert E. Lee Memorial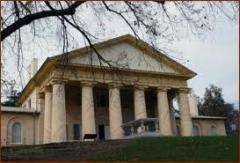 As the residence of Robert E. Lee and his family before the Civil War, Arlington House has a unique and interesting story, with connections to many important figures, issues and events in American History.
Built by George Washington Parke Custis and his slaves between 1802 and 1818, the house and grounds have served many purposes over the last two hundred years: a family home for the Lees and Custises, a plantation estate and home to 63 slaves, a monument honoring George Washington, a military headquarters, a community for emancipated slaves and a national cemetery.
The collection includes numerous 19th-century photographs and carte-de-visites, as well as boots, tables, chairs, and a terrestrial globe from the life of General Lee.