Backstreet Cultural Museum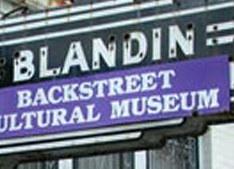 The Backstreet Cultural Museum contains exhibits, artifacts, memorabilia, films and videos depicting Mardi Gras Indians, Social Aid & Pleasure Clubs, and Traditional Jazz Funerals. These three elements represent cultural institutions born from the spirit of the community in an effort to define and express itself. These unique aspects of the African American heritage in New Orleans are guarded by those who still practice these traditions.
The Museum is housed in a creole cottage in the heart of a New Orleans neighborhood known as the "Treme". The Museum and the Treme are cemented in history by a cultural legacy. The Backstreet Cultural Museum is perfectly at home in its surroundings and serves as a focal point of the Treme and the cultural community it represents. The Treme, located directly adjacent to the French Quarter, has been and continues to be a vibrant enclave of musicians and artists in New Orleans.
The Museum regularly presents a variety of events and programs which include exhibitions of select pieces from its permanent collection at events such as the New Orleans Jazz & Heritage Festival. BSCM hosts an annual Treme Call Out–and Dance. This event honors key community members for their dedication to the Treme neighborhood and is open to the extended BSCM community. The Museum also hosts an annual Mardi Gras Open house and conducts an All Saints Day Parade every November 1st including 2005, not long after New Orleans opened after Hurricane Katrina.