Baltimore Museum Of Art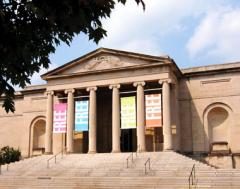 This museum features an eclectic mix of artwork from different cultures, ranging from Antioch mosaics to African headdresses.
From a single object in 1914, The Baltimore Museum of Art's outstanding collection today encompasses 90,000 works of art, including the largest holding of works by Henri Matisse in the world, as well as masterpieces by Pablo Picasso, Paul Cézanne, and Vincent van Gogh.  
The BMA is recognized for an impressive collection of contemporary art that includes important examples of Abstract Expressionism, Minimalist sculpture, and Pop Art with many late works by Andy Warhol, as well as major acquisitions of more recent work by artists such as Olafur Eliasson and Kara Walker.The Museum also boasts an internationally renowned collection of prints, drawings, and photographs from the 15th century to the present; European masterpieces by Sandro Botticelli, Rembrandt van Rijn, and Sir Anthony van Dyck; distinguished American painting, sculpture, and decorative arts; one of the most important African collections in the country; and notable examples of art from the Ancient Americas, Asia, and the Pacific Islands.