Bandelier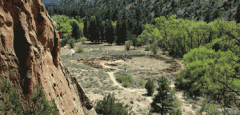 Bandelier has a long human history and links to the modern Pueblos. Early Spanish settlers, the Civilian Conservation Corp (CCC), and the National Park Service also left their mark on the local landscape.
The Main Loop Trail is a 1.2 mile loop trail through archeological sites. Ladders along the trail allow visitors to climb into cavates (small human-carved alcoves). The Main Loop Trail takes you past the Big Kiva, Tyuonyi, Talus House, and Long House.
Visitors can also explore the Bandelier Museum Exhibit. These displays inside the Visitor Center showcase Ancestral Pueblo pottery, tools and artifacts of daily life. The museum also features two life-size diaramas comparing Pueblo life in the past and today.
The temporary exhibit space currently houses an intruiging display on the work of the Civilian Conservation Corps at Bandelier and their experiences here.