Bannerman Castle Trust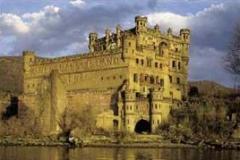 David Bannerman purchased the island from the Taft family in 1900 as a safe storage site for the weapons he collected on behalf of his business. Mr. Bannerman began construction on a simulated Scottish castle and simple residence in 1901.
Equipment of every description as well as ammunition were shipped there for storage until sold. Although Frank Bannerman was a munitions dealer, he titled himself to be a man of peace. He wrote in his catalogues that he hoped that his collection of arms would someday be known as "The Museum of the Lost Arts". He was a devoted church goer, a member of the St. Andrews Society, founder of the Caledonian Hospital, and active in a boy's club - often taking them on trips to the island in the summer months. In W.W.I he contributed cannons; uniforms, and blankets, to the U.S. government. Frank and Helen Bannerman used the house on the island as a summer residence. Mrs. Bannerman, a successful gardener, enhanced the paths and terraces with wonderful flowers and shrubs, some which still exist today.