Battle Of Plattsburgh Center And War Of 1812 Museum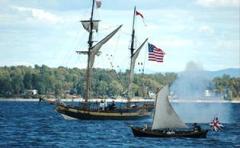 The Battle of Plattsburgh Association runs the Battle of Plattsburgh Interpretive Center and War of 1812 Museum to preserve the memory of the soldiers of the War of 1812.
On September 11, 1814, American Gen. Alexander Macomb stopped the British advance into the northern states at Plattsburgh, New York. The on-site museum contains original works of art related to the Battle of Plattsburgh and the War of 1812 along with rotating exhibits, including Forgotten Artifacts of the Battle of Plattsburgh-with musket pieces, metal pieces, and ammunition dredged from Lake Champlain. A five-by-fifteen-foot diorama depicts the battlefield from September 6 through the 11, when British and American troops clashed on land and sea.