Bennett Place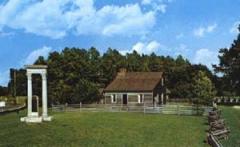 In 1865 the Confederate General Johnston and Union General Sherman met at the Bennett Place, where they signed surrender papers for southern armies in the Carolinas, Georgia, and Florida.
In 1846 at age 40, James Bennett, his wife Nancy, and their three children settled on a 325-acre farm in Orange County. The family grew corn, wheat, oats, and potatoes, and raised hogs. Bennitt was also a tailor, cobbler, and sold horse feed, tobacco plugs, and distilled liquor. Bennitt's sons and son-in-law died during the war years. Age and the loss of available labor compelled Bennett to enter into a sharecropping agreement with his in-laws. He stopped farming in 1875 and died in 1878; his wife passed on six years later.
In 1921 a fire destroyed the farmhouse and kitchen; only the stone chimney survived. The present buildings seen at the site were carefully reconstructed in the 1960s, using Civil War sketches and early photographs as a guide. The simple reproduction farm dwelling and log kitchen show what life was like during a tragic period in our nation's history. A modern visitor center with exhibits and an audiovisual program help tell the Bennett Place story.