Bergstrom Mahler Museum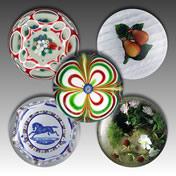 Mrs. Evangeline Bergstrom bequeathed 632 pieces in 1958 to become the foundation of a collection that would grow to 2,300 objects. The Germanic Glass collection presents a timeline of glass production from northern European regions encompassing modern day Germany, Austria, and Poland and dating from 1573 through the end of the 19th century. Roughly three hundred years of glass and artistic development are encapsulated in 258 pieces.
The collection also includes contemporary glasswork, included pieces from the Studio Art movement started in Wisconsin, and victorian pieces, such as glass baskets.
In addition to its Collection resources the Museum is also a community arts center. Its educational offerings include art classes for all ages, along with workshops, lectures and demonstration programs related to the Permanent Collections and temporary exhibitions.