Billingsley House Museum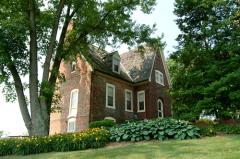 Although Major John Billingsley never lived on the property he acquired from Lord Baltimore on the Patuxent River and the Western Branch in 1662, his name has been associated for centuries with the area. The house that today sits on the land was built in 1740 by James Weems, a prominent doctor, businessman, and office holder. It replaced an older house that Prince George's County's first Chief Justice, Colonel Thomas Hollyday, constructed in 1695.
Visitors will marvel at this extraordinary example of Tidewater Colonial plantation architecture. Though slight renovations to the site occurred periodically through the nineteenth and twentieth centuries, the brick house's period decor vibrantly evokes mid-Atlantic life before the American Revolution. Tours are available between noon and 4 p.m. on Sundays; the last tour begins at 3 p.m.