Bladensburg Waterfront Park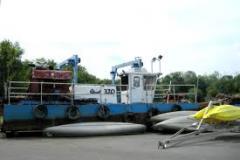 This park sits on the site of the pivotal Battle of Bladensburg during the War of 1812, the loss of which led to the burning of Washington.
The revitalized Bladensburg Waterfront Park is located on the Anacostia River, one of the most historic waterways in America. The park features a public boat ramp, fishing pier, picnic pavilion, playground, a B & O Railroad caboose, community boathouse (storage facility) and signage interpreting the rich history of the area. Canoe, kayak, and rowboat rentals are available on weekends from late May to the end of October. Free pontoon boat tours allow visitors to explore this surprisingly scenic river with the guidance of a naturalist. Canoeing and kayaking lessons are offered, as well as many other interesting nature and history programs. Special events include the annual Port Towns Day, Paddlesport Regatta, and river clean-ups. The hiker/biker bridge links this park directly to the Anacostia Tributary Trail System.