Bothwell Lodge State Historic Site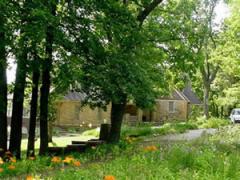 Sitting atop a 120-foot bluff, Bothwell Lodge State Historic Site can't be missed by travelers heading north on Highway 65 from Sedalia. This castle-like building was constructed between 1897 and 1928 for a prominent Sedalia lawyer, John Homer Bothwell. Bothwell was active in local politics, represented Pettis County for eight years in the Missouri General Assembly, and unsuccessfully ran for governor in 1904. His influence helped to make Sedalia the permanent home for the Missouri State Fair.
Bothwell Lodge was built in four sections on top of three natural caves, using native rock from the estate grounds. The 12,000-square-foot lodge, an example of the Arts and Crafts style of architecture of the early 20th century, was a getaway for Bothwell and his numerous guests. Bothwell's eclectic furnishings, most of which remain today, and informal atmosphere represent his intentions of providing a recreational retreat.
A visit to Bothwell Lodge State Historic Site may begin with a tour of the 31 room, multi-level house but doesn't end there. Stonyridge Trail meanders along the wooded slope surrounding the lodge past a stone gazebo and a small three-sided stone shelter. The 247-acre site also features a three-mile hiking and bicycling trail and a picnic area, which offers picnic tables, playground equipment and a reservable pavilion.