Brown & Hopkins Country Store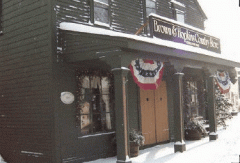 Rhode Island has a number of historical landmarks that date back to the 1700's. Among them is Brown & Hopkins Country Store. It has been reported by the Bond Map Company of New York to be the oldest country store in continuous operation in the United States.
The building was erected in 1799 by Timothy Wilmarth. In 1809 the building was purchased by Ira Evans who started the business as a general store. After several changes in ownership it was then purchased in 1921 by James L. Brown and William W. Hopkins. Brown and Hopkins operated the store until 1964, when it was purchased by Roscoe and Lillian Steere. In the late 1900's Brown & Hopkins experienced a few more changes in ownership.
Today, the store now specializes in primitive and country home accessories, reproduction furniture, and period lighting. Browse the two floors and discover candles, quilts, Old World Christmas ornaments, framed prints, old fashioned candy (still some for just a penny), gourmet specialties from Stonewall Kitchen, Vermont cheddar cheese, yard goods and an assortment of antiques.
From the potbelly stove (retired, but still admired) to the old wooden floors and beamed ceilings, Brown & Hopkins maintains much of its authenticity and continues to attract people from all over the country to its doors.