Brunswick Railroad Museum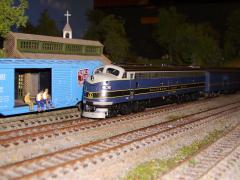 The town in which this museum is located was known during the Civil War as Berlin, and has been positioned on both the C&O Canal and B&O Railroad. The second floor of the museum tells the story of this city, with life-size recreations of Victorian rooms as the central exhibit. On the third floor is a massive to-scale model of the B&O Railroad as it existed from Brunswick to Washington, DC, in the 1960s. On the first floor is one of the National Park Service Visitor Centers for the Chesapeake & Ohio National Historic Park.
Railroads transformed American society by speeding up the Industrial Revolution and facilitating entrepreneurs' pursuit of immense wealth. This Frederick County museum explores the nation's complex transportation history through a number of exhibits, including an enormous scale model of the B&O Railroad's passenger line between Union Station in Washington, DC, and the Brunswick Freight Classification Yards. Other displays include railroad equipment and memorabilia, social history exhibits, photographs, Victorian costumes, period furnishings and toys, and baseball artifacts. The C&O Canal Visitor Center and Pete Harper's Children's Hands-On Activity Room are located on the main floor. Together, these exhibits illuminate for visitors the character of American society at the advent of the revolutionary railroad era.