Buckeye Valley Museum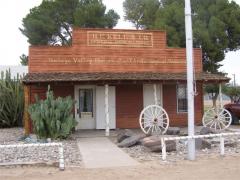 In 1877, the founder of the settlement that was to become the Town of Buckeye led a party of six men, three women and ten children, from Creston Iowa, bound for Arizona. The leader of this party was Thomas Newt Clanton whose purpose for coming west was to foster good health. It was a good move for him – he lived in Arizona for 49 years before his death at the age of 82.
Development in the Buckeye Valley received its first great boost with the construction of the Buckeye Canal. In 1884, Malin M. Jackson named the canal in honor of his native state of Ohio, the Buckeye State. Clanton built ten miles of the canal, which was completed in 1886.