Buffalo Bill Historical Center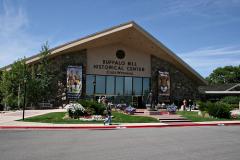 Today's Center encompasses five museums, a research library, a professionally developed Web site, and a vibrant, growing educational outreach program.
The present-day Buffalo Bill Museum contains a wealth of material relating to the life of William F. "Buffalo Bill" Cody and the pioneer culture of the Western frontier. The exhibition in the museum serves two purposes: to examine the personal and public lives of Buffalo Bill, and to interpret his story in the context of the history and myth of the American West.
The Whitney Gallery of Western Art, established in 1958, now contains expanded collections of masterworks of the American West. Original paintings, sculpture and prints trace artistic interpretations of the West from the early 19th century through present.
The Plains Indian Museum, originally established in 1969, was rededicated in its own wing in 1979. It has one of the country's largest and finest collections of Plains Indian art and artifacts.
The Cody Firearms Museum, dedicated in Cody as the Winchester Arms Museum in 1976, was rededicated in 1991 in a new wing as the Cody Firearms Museum. It houses the world's largest and most important assemblage of American arms, as well as European arms dating back to the 16th century.
The McCracken Research Library, established in 1980, is a specialized library and archives. Holdings include manuscripts, archives, and photographs, as well as printed and electronic resources.