C. Burr Artz Public Library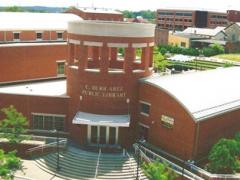 C. Burr Artz Library is a branch of the Frederick County Public Libraries.
Featured Sites
Navy – Merchant Marine Memorial


Washington, District Of Columbia

Located in Lady Bird Johnson Park on Columbia Island, the Navy-Merchant Marine Memorial

Fort Zachary Taylor Historic State Park


Key West, Florida

Named after 12th president Zachary Taylor, the U. S.

Wright's Chance/Queen Anne's County Historical Society


Centreville, Maryland

Dating back to the 1700s, Wright's Chance is a Colonial period plantation house.

The Powder Magazine


Charleston, South Carolina

Construction began on The Powder Magazine in 1712 and was completed by 1713, making it

Del Webb Sun Cities Museum


Sun City, Arizona

The Sun Cities Area Historical Society/Del Webb Sun Cities Museum is dedicated to the p

Steamship Historical Society of America


East Providence, Rhode Island

THE STEAMSHIP HISTORICAL SOCIETY OF AMERICA was established in 1935 as a means of bring

Tryon Palace


New Bern, North Carolina

Tryon Palace is a modern recreation of the original palace, which served as the royal g

Hampton-Preston Mansion & Gardens


Columbia, South Carolina

One of Columbia's oldest remaining historic houses, the Hampton-Preston Mansion was hom

Old Sturbridge Village


Sturbridge, Massachusetts

Old Sturbridge Village is the largest living history museum in New England, spanning o

Dublin Heritage Center


Dublin, California

By viewing the Old St.

Touro Synagogue National Historic Site


Newport, Rhode Island

The Touro Synagogue was dedicated in

Dominican Sisters Of St. Cecilia


Nashville, Tennessee

In her history of St.

Fort Barrancas


Pensacola, Florida

The Fort Barrancas Area is on Taylor Road approximately a half mile east from the Museu

Harpers Ferry National Historic Park


Harpers Ferry, West Virginia

Stroll the site of John Brown's historic 1859 abolitionist raid, complete with museums

El Morro (fort San Felipe Del Morro)


San Juan, Puerto Rico

Officially known as Fuerte San Felipe del Morro, this fort sits atop a high promontory

Fort Davis


Fort Davis, Texas

From 1854 until 1891, troops stationed at the post protected emigrants, freighters, mai

Mount Independence


Orwell, Vermont

During that historic summer, 12,000 soldiers built a massive fort

Stones River National Battlefield


Murfreesboro, Tennessee

The landscapes of Stones River National Battlefield have shaped and been shaped by the

Kings Mountain National Military Park


Blacksburg, South Carolina

By exploring the Visitor Center, which includes a 26 minute film, exhibit area and 1.5

Cove Fort


Between Fillmore and Beaver, Utah

The construction of the fort was over-seen by Ira Hinckley.

Fort Stanton


Roswell, New Mexico

Fort Stanton was established on May 4, 1855 to protect Hispanic settlements along the R

Fort Mackinac


Mackinac Island, Michigan

Fort Mackinac was a major military outpost during the Revolutionary War and War of 1812

Jenkins Plantation Museum


Lesage, West Virginia

Jenkins Plantation has survived wars, floods, wind and weather.

Tuckahoe Plantation


Richmond, Virginia

A home to the Randolph family and working farm for nearly 300 years, this plantation wa

Governor Ross Mansion And Plantation


Seaford, Delaware

This home belonged to William Henry Harrison Ross, who was the Governor of Delaware fro

House In The Horseshoe


Sanford, North Carolina

During the American Revolution, groups of citizen-soldiers called Whigs or revolutionis

Mount Calvert Historical And Archaeological Park


Upper Marlboro, Maryland

Mount Calvert's rich archaeological and historical resources represent over 8,000 years

Mansker's Fort


Goodlettsville, Tennessee

Mansker's Fort is an authentic reconstruction of a 1779 frontier forted station typical

West Tennessee Agricultural Museum


Milan, Tennessee

Steeped in the rich history of its region, the West Tennessee Agricultural Museum prese

Apple River Fort


Elizabeth, Illinois

The war, which lasted only 16 weeks, ended the threat of Indian attacks in the area and
We hope you enjoy our work.
Please support this 72-year tradition of trusted historical writing and the volunteers that sustain it with a donation to American Heritage.
Featured Articles