Cabrillo National Monument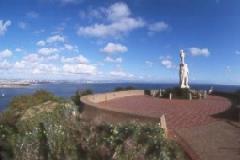 As the park's namesake, Juan Rodriguez Cabrillo led the first European expedition to explore what is now the west coast of the United States. Cabrillo departed from the port of Navidad, Mexico, on June 27, 1542. Three months later he arrived at "a very good enclosed port," which is known today as San Diego Bay. Historians believe he anchored his flagship, the San Salvador, on Point Loma's east shore near Cabrillo National Monument. Cabrillo later died during the expedition, but his crew pushed on, possibly as far north as Oregon, before thrashing winter storms forced them to back to Mexico.
Cabrillo National Monument, established in 1913, commemorates Juan Rodriguez Cabrillo's voyage of discovery. A heroic statue of Cabrillo looks out over the bay that he first sailed into on September 28, 1542. At the Visitor Center, the film "In Search of Cabrillo" and an exhibit hall present Cabrillo's life and times. Ranger-led programs about Cabrillo are usually available on weekends and on many weekdays during summer months.
The park also contains remnants of coastal defense systems present within the park and the Old Point Loma Lighthouse, which has been guiding mariners into the San Diego harbor since 1855.