Cahokia Mounds State Historic Park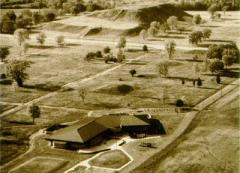 The United Nations Educational, Scientific, and Cultural Organization designated Cahokia Mounds a World Heritage Site for its importance to our understanding of the prehistory of North America.
According to archaeological finds, the city of Cahokia was inhabited from about A.D. 700 to 1400. At its peak, from A.D. 1050 to 1200, the city covered nearly six square miles and possibly 10-20,000 people lived here. Over 120 mounds were built through time, and most mounds were enlarged several times. Houses were arranged in rows and around open plazas, and the main agricultural fields lay outside the city. The site is named for a subtribe of the Illiniwek (or Illinois tribe, a loose confederacy of related peoples) - the Cahokia - who moved into this area in the 1600s and lived nearby when the French arrived about 1699.