California Historical Society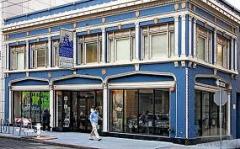 Boasting one of the largest collections of primary and secondary materials on the history of California, the California Historical Society is located in the former San Francisco Builders Exchange.
In June 1871 a group of people assembled at 323 California Street, marking the first of four attempts to begin the California Historical Society. After the undocumented collapse of the first group, a second attempt to revive CHS lasted from 1886-1891. In 1902 the ailing Society partnered with the California Genealogical Society and for a brief period the collaboration prospered. The earthquake and fire damage of 1906 induced yet another break of the Society.
Finally in 1922 C. Templeton Crocker, grandson of Charles Crocker, permanently resurrected the Society. Crocker's financial generosity supported CHS until the dues collected enabled the organization to hire its first staff member in March 1923. The group held its first exhibition at the Bohemian Club in San Francisco in 1924.
The Society's initial purpose was the publication of a quarterly that still exists today. Many years later when Crocker donated his collection of Californiana to CHS, the foundation of the North Baker Research Library and the CHS Fine Arts Collection were formed. For a short time CHS shared its headquarters with the Society of California Pioneers. However, in 1956 the Society established its own home in the Whittier Mansion, at the corner of Jackson and Laguna, in the Pacific Heights neighborhood of San Francisco.
In October 1993 the Society purchased 678 Mission Street, the former San Francisco Builders Exchange and a former hardware store, in the newly developed Yerba Buena Gardens neighborhood. The building was renovated for seismic safety and the basement, which extends underneath the Mission Street sidewalk, was converted into a climate-controlled storage vault for the Society's collections.