Calvert County Historical Society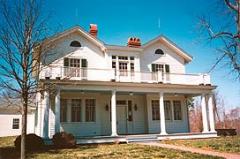 The Calvert County Historical Society oversees the preservation of county history out of its headquarters at Linden.
From a newly established Headquarters Room on site at Linden, visitors can find a wealth of valuable early county history. Gifts to the Society over the years have been varied and interesting, and have made important contributions to the understanding of the uniqueness and richness of the County's history. The research library continues to grow in volume and diversity. Family papers describing first person accounts of historical events, wills, family Bibles, original manuscripts, photographs, published histories and a growing video library are but a small part of the collection. Portraits, pieces of furniture and artifacts have also been entrusted to the Society's care.