Camp Washington Carver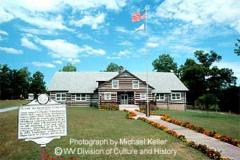 Camp Washington-Carver, a Mountain Cultural Arts Center operated by the state of West Virginia, is listed on the National Register of Historic Places. More than 10,000 people attended events this year at the camp. Each season features events chosen to preserve the arts and traditions of yesterday while perpetuating those of today.
Programs like the African-American Heritage Arts Camp and the Appalachian String Band Festival, along with the camp's Great Chestnut Lodge, the largest log structure of its kind in the world, make this site a favorite place for Mountain State festivities.