Caramoor Center For Music And The Arts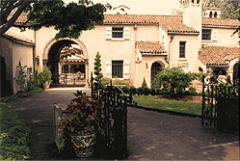 The Rosen House, built around a central courtyard, is the former summer home of Caramoor's founders Lucie Bigelow and Walter Tower Rosen. Resembling a Mediterranean villa, Rosen House was designed by Walter Rosen, with assistance from the architect Christian Rosborg, and was built between 1929 and 1939 to showcase the collection the Rosens had amassed through the years: Renaissance, 18th century, and Eastern art objects and furnishings - tapestries, sculpture, paintings, textiles, furniture, exquisite wall coverings, stained glass, Urbino Maiolica, and a major jade collection. Entire rooms were imported from European palaces and country manors. Today, twenty rooms are open to the public.
With its outstanding performances, engaging arts-in-education programming, the Rosen House, and grounds, Caramoor is a cornerstone of the cultural life of Westchester County. Since 1945 visitors have delighted in the exceptional music—from classical to opera to jazz—and the garden setting that makes Caramoor such a unique and treasured resource.