Carillon Historical Park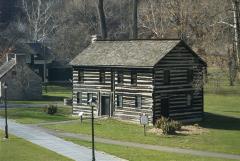 Visitors begin their visit to Carillon Historical Park at the Kettering Family Education Center. They can see changing exhibits in the National City Exhibit Gallery.
While touring the Park, guests may visit Newcom Tavern, Dayton's oldest standing building. Newcom Tavern was built in 1796 as the home of Col. George Newcom and his family. It was the center of community life for the pioneer settlement, and housed the first court sessions, school and church services. The tavern originally stood beside the river in downtown Dayton and was moved to the Park in 1965.
Visitors can view an original Wright Flyer, and board a 1903 Barney & Smith Parlor car. Antique automobiles, a working 1930's Print Shop, and vintage bicycles are some of the other exhibits visitors will see along the way. The Wright Flyer III, a National Historic Landmark, is a unit of Dayton Aviation Heritage National Historic Park.