Carnegie Center For Art And History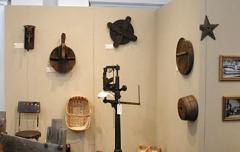 The museum strives to serve as a cultural resource for the education and the enjoyment of its visitors by collecting, preserving and interpreting the history and heritage of Floyd County. CC promotes an appreciation of and participation in the visual arts, as well as a preservation of the historic Carnegie Library Building in which the museum is housed.
The Center offers visitors an opportunity to enjoy art works in a variety of media, to take part in lectures and workshops based on those exhibits, and to learn more about the colorful history of Floyd County, Indiana.