Carnegie Center For Arts And History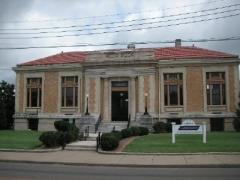 The present Carnegie Center for Arts and History, located in downtown Jackson, opened in 1903 as the Jackson Free Library, the town's first library, financed by Jackson City Council funds and a matching $30,000 grant from philanthropist Andrew Carnegie. In 1968, the Carnegie was replaced by the newer larger Jackson-Madison County Library and was allowed to fall into disrepair from 1968 to 1987.
Today, the Carnegie Center for Arts and History stands as proof that Jacksonians value their heritage and choose to preserve it for future generations. The facility serves as a gathering place for many groups and individuals including weddings, receptions, teas, luncheons, fashion shows, recitals, musical programs, art showings, collectors' exhibits, business meetings, class reunions and many other events. The Carnegie is one of the most popular places for special events and is available for rental. For more information, contact The Jackson Centre at (731) 425-8580.