Carnton Plantation And Battlefield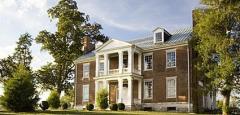 Carnton was built in 1826 by former Nashville mayor Randal McGavock (1768-1843). Throughout the nineteenth century it was frequently visited by those shaping Tennessee and American history, including President Andrew Jackson.
Beginning at 4 p.m. on November 30, 1864, Carnton was witness to one of the bloodiest battles of the entire Civil War. The Confederate Army of Tennessee furiously assaulted the Union troops entrenched along the southern edge of Franklin. The resulting battle, believed to be the bloodiest five hours of the Civil War, involved a massive, hopeless frontal assault larger than Pickett's Charge at Gettysburg. The majority of the combat occurred in the dark and at close quarters. The Battle of Franklin lasted barely five hours and led to some 9,500 soldiers being killed, wounded, captured, or counted as missing. Nearly 7,000 of that number were Confederate troops. The plantation house served as the largest field hospital in the area for hundreds of wounded and dying Confederate soldiers.
In early 1866, John and Carrie McGavock designated two acres of land adjacent to their family cemetery as a final burial place for nearly 1,500 Confederate soldiers killed during the Battle of Franklin. The McGavocks maintained the cemetery until their deaths. New York Times bestselling author Robert Hicks immortalized the McGavocks' tending of the Confederate dead in his 2005 book The Widow of the South.
Today, the McGavock Confederate Cemetery is a lasting memorial honoring those fallen soldiers and the Battle of Franklin. It is the largest privately owned military cemetery in the nation.