Carson Brewing Company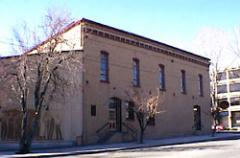 Business was prospering by 1864, so a new two-story brewery was built in 1865 in the commercial form of Classical Revival, on the corner of Division and King streets, where it stands today. The brewery and a bar were on the main floor and the upper floor served as the Masonic Lodge from 1865 to 1919. The Carson Brewery made steam beer, a bottom-fermenting brew produced without the constant cold temperatures required by lagers. The pure water came from King's Canyon Creek west of town. Hops and barley were mostly imported from California. The brewery delivered barrels, kegs and bottles of beer to local saloons, Comstock tap rooms and other towns around the state. Five kegs a week were also shipped to San Francisco for some Nevada-based customers who would drink no other brand.
The brewery was sold in 1900 to James Raycraft and Frank Golden, who incorporated and changed the name to Carson Brewing Company. In 1910, brewmaster Fritz Hagmeyer persuaded his brother-in-law, Max Stenz, to purchase the operation. Stenz converted from steam beer to lager in 1913, and labeled his new product Tahoe Beer, "Famous as the Lake." He made several major improvements, including adding a cold storage room and new boiler, and expanding the bottling operation, by bottling soft drinks and mineral water from Carson Hot Springs, as well as packaging artificial ice.
By the 1940s, large brewing companies were buying local beer businesses throughout the country. Arnold Millard, who bought the brewery in 1926 from his father-in-law Stenz, liquidated the business in 1948. After 88 years of continuous operation, this was the end of the longest-running brewery in the state and one of Nevada's oldest businesses. After 1948, the building was the home of the Nevada Appeal newspaper, and today, is the site of the Brewery Arts Center, which received grant funds from the National Park Service's Historic Preservation Fund for its restoration program. An exhibit on the history of the Carson Brewing Company is located at the Arts Center.