Cass County Historical Society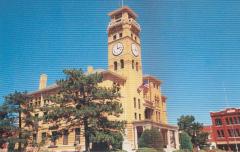 The society has published books dealing with family histories, a history of Harrisonville, cemetery guides, calendars, and reprinted plat books.
The society provides for the preservation of such material and makes it accessible to the public in the Margaret Wade Archives, located in the Cass County Information Center at 400 E. Mechanic. There it houses many county records such as probate packets, deed books and indices, court records, marriage records, tax records, etc. Volunteers have prepared indices for birth and death records, census and marriage records, and over 60,000 obituaries to name a few. In addition, the society maintains the 1835 Sharp-Hopper Log Cabin and uses it to showcase the pioneer heritage of the county.