Castle Clinton National Monument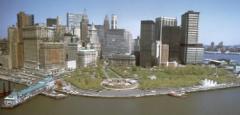 First intended to keep out a British invasion in 1812, the Castle has transformed over the years to welcome theater goers, immigrants, sightseers and now millions of visitors to New York Harbor.
More than a dozen forts were built to defend New York Harbor at the time of the War of 1812. The Southwest Battery was constructed on the rocks off the tip of Manhattan Island between 1808 and 1811. Although fully armed, the fort never had occasion to fire upon an enemy. In 1817, the fort was renamed Castle Clinton in honor of DeWitt Clinton, Mayor and later Governor of New York. The army vacated the fort in 1821 and the structure was deeded to New York City in 1823. On August 3, 1855, Castle Garden, now leased to New York State, opened as an immigrant landing depot. During the next 34 years, over 8 million people entered the United States through Castle Garden, until it was closed on April 18, 1890. Saved from demolition in 1946, the Castle was restored to its original look as a fortification and serves not only as a museum, but the ticket office for the Statue of Liberty and Ellis Island ferry. The fort built to keep out the British now serves to welcome all to America.