Catoctin Mountain Park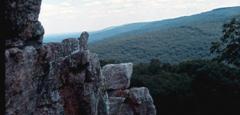 President Franklin D. Roosevelt created programs to give people a chance to rebuild their lives from the Great Depression. The Works Progress Administration and the Civilian Conservation Corps gave this land a second opportunity and through re-growth, a new role as a recreation area. Discover the scenic beauty of the park during all seasons. Catoctin Mountain Park has cultural treasures to explore too. The Whiskey Still, Sawmill, and the Charcoal and Iron industries are all featured along trails with wayside exhibit.
President Franklin D. Roosevelt established a retreat in the Catoctin Park, a place to relax, within a 100 mile radius of Washington, D.C. and in the cool mountain air was sought. Several sites were considered but Camp Hi-Catoctin in the Catoctin Recreational Demonstration Area was selected after the President's first visit on April 22, 1942. A camp was already built on the site and the estimated conversion cost was $18,650. It was also almost 10 degrees cooler than Washington. The camp for federal employee's families became the camp of one federal employee, the President of the United States. Roosevelt quickly renamed the camp to "Shangri-La" from James Hilton's 1933 novel, Lost Horizon. Camp David continues to serve as the Presidential Retreat today. It is a private, secluded place for recreation, contemplation, rest, and relaxation. Many historical events have occurred at the Presidential Retreat; the planning of the Normandy invasion, Eisenhower-Khrushchev meetings, Camp David Accords with Menachem Begin of Israel and Anwar Sadat of Egypt, discussions of the Bay of Pigs, Vietnam War discussions, and many other meetings with foreign dignitaries and guests. Maintaining the privacy and secluded atmosphere of the retreat is an important role for Catoctin Mountain Park. The Presidential Retreat still remains within park boundaries but is not open to the public.