Charles Pinckney National Historic Site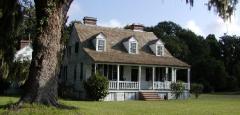 Snee Farm, Pinckney's coastal plantation, offers an opportunity to learn about the cultural environment that influenced Pinckney and his contributions to the framing of the Constitution, and is an important element in the understanding of the first 30 to 40 years of the United States as a young nation.
The wealth of elite South Carolina Lowcountry families was reflected in their numerous plantations. Unlike their counterparts in Virginia, however, these families also owned houses in Charleston and frequently moved from town to plantation and back, depending on the season. Snee Farm, a favorite "country seat," was among the many properties owned by the Pinckneys. Purchased by his father in 1754, the 715-acre estate was inherited by Pinckney in 1782. President George Washington visited the site in 1791 while touring the southern states.
Often an absentee landlord while serving his country here and abroad, Pinckney was forced to sell Snee Farm in 1817 to satisfy his debts. The property had been greatly mismanaged during his absence and had diminished in value. Today, only 28 of the 715 acres remain essentially undeveloped. The current house, built in the early 19th century, probably replaced the Pinckney home.