Chattanooga National Cemetery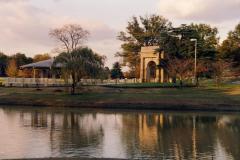 On Dec. 25, 1863, Maj. Gen. George H. Thomas, "The Rock of Chickamauga," issued General Orders No. 296 creating a national cemetery in commemoration of the Battles of Chattanooga, Nov. 23-27, 1863. Gen. Thomas selected the cemetery site during the assault of his troops that carried Missionary Ridge and brought the campaign to an end. The land was originally appropriated, but later purchased, from local residents Joseph Ruohs, Robert M. Hooke and J. R. Slayton.
The site Thomas selected was approximately 75 acres of a round hill rising with a uniform slope to a height of 100 feet; it faced Missionary Ridge on one side and Lookout Mountain on the other. Gen. Grant established his headquarters on the summit of the hill during the early phase of the four-day battle for Lookout Mountain.
Chaplain Thomas B. Van Horne was placed in charge of the cemetery's development. In a report of May 14, 1866, the chaplain indicated that one-third of the cemetery site could not be used for burials due to large rock outcroppings. As a result, he suggested a design dictated by the rocky terrain. Much was accomplished during Van Horne's tenure at the cemetery. Flowering shrubs, evergreens and other trees were planted to replace a portion of the dense forest of oak trees that had been cut down as a part of the battleground. Each interment section consisted of a central site for a monument surrounded by plots for officers with the graves of enlisted personnel arranged in concentric circles around them. In 1867, it was designated Chattanooga National Cemetery.
By 1870, more than 12,800 interments were complete: 8,685 known and 4,189 unknown. The dead included men who fell at the battles of Chickamauga, Missionary Ridge and Lookout Mountain. There were also a number of reinterments from the surrounding area, including Athens, Charleston and locations along the line of Gen. Sherman's march to Atlanta. A large number of men—1,798 remains—who died at the Battle of Chickamauga were relegated to unknowns during the reinterment process.
In addition to Civil War veterans, there are 78 German prisoners of war buried here. Chattanooga National Cemetery was listed in the National Register of Historic Places in 1996.