Cheekwood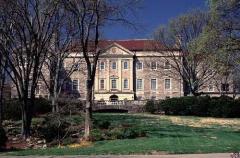 The Cheekwood gardens are seen and enjoyed by over 175,000 visitors each year. The property was once the elegant home of the Cheek family. The fifty-five acre site includes the original Cheek gardens, designed by Bryant Fleming, with pools, fountains, statuary, extensive boxwood plantings and breathtaking views of the rolling Tennessee hills. Cheekwood was opened to the public in 1960 and the many specialized gardens have developed since that time.
Visitors will discover a Japanese garden, an herb garden, two perennial gardens, a color garden, water garden, seasons garden and an award-winning wildflower garden. Each garden has a special purpose presenting a particular group of plants or garden style.
Botanic Hall, the center of the horticultural activities, has art and horticultural exhibits, flower shows, an exceptional library and the annual Holiday Fest celebration.