Chesapeake And Ohio Canal National Historic Park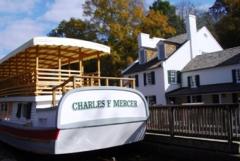 Originally, the C&O Canal was a lifeline for communities and businesses along the Potomac River as coal, lumber, grain and other agricultural products floated down the canal to market.
In the 19th century the C&O Canal provided jobs and opportunities for people throughout the Potomac River Valley. Today the canal's remains provide a place to recreate and enjoy nature, but most importantly they tell the story of the canal's important role in many aspects of American history. These include western expansion, transportation, engineering, the Civil War, immigration, industry and commerce.
Six visitor centers along the canal include Georgetown (202-653-5190), Great Falls Tavern (301-767-7100), Brunswick (301-834-7100), Williamsport (301-582-0813), Hancock (301-678-5463), and Cumberland (301-722-8226).