Children's Museum of Oak Ridge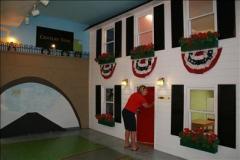 As a unique educational resource, the museum provides children with the opportunity to learn while playing-to create, discover, solve, and experience, within non-traditional, interactive exhibit galleries. It brings teachers, parents, caregivers, and children together in an educational environment where classroom learning is supplemented, imaginations are kindled, and learning opportunities in the arts, sciences, and history abound.
The museum is also a dynamic cultural center that features innovative exhibitions, programs and workshops for all ages. Science, art and history are emphasized in hands-on learning opportunities that encourage young people to understand their cultural heritage, environment and the world around them. Educators are encouraged to utilize the Museum's numerous resources -over 20,000 objects, archival holdings, audio/video tapes, books and magazines.