Chippewa Falls Museum Of Industry And Technology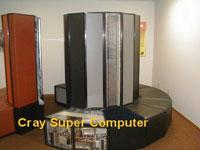 The museum has a large collection of supercomputers. This collection is representative of years of hard work at Cray Research, Inc., one of the first and foremost supercomputing companies This exhibit offers not only the supercomputer collection but also videos and information about Seymour Cray. Seymour Cray was born in Chippewa Falls, and was known worldwide as the Father of Supercomputers. His Cray Research Company was started in Chippewa Falls.
There is also an exhibit on the lakes and ponds of Wisconsin. It teaches visitors about species found in the bodies of water, including some live fish. The exhibit also contains information on the water cycle and the effects of humans upon lakes and ponds. Another exhibit traces the industries of Chippewa Falls, from wingtip Mason shoes to the Chippewa Woolen Industry. There is also a hands-on exhibit on the history of counting machines and mathematics. This traces the development of technology from the Chinese abacus to modern-day adding machines.