Christ Episcopal Church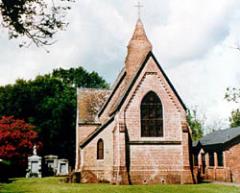 One of the oldest Episcopal churches west of the Mississippi River, Christ Episcopal Church is located on Bayou Lafourche in the Napoleonville Parish. An excellent example of Gothic Revival architecture, the church was designed by Frank Wills. Wills, architect for the New York Ecclesiological Society, is also credited with the design of Trinity Church in Natchitiches. The mission of the Ecclesiological Society was to encourage church design in the style of English parish churches of medieval times. Christ Church was consecrated on May 10, 1854, by the Right Reverend Leonidas Polk, first Episcopal Bishop of Louisiana, later a general in the Confederate army.
During the Civil War, Christ Church was used as a barracks by Union troops from Ohio and Indiana. Later they stabled their horses there and used the stained glass windows for marksmanship practice. Having been destroyed almost completely during the war, the church was abandoned until 1869, when the greatly impoverished congregation, out of its own slender means, was able to restore it for public worship. Upon visiting in 1869, Bishop Wilmer declared that "they were persecuted, but not forsaken; cast down, but not destroyed." The edifice had scarcely been restored before it was severely damaged in a thunderstorm and later by lightening. Again it had to be abandoned. The task of rebuilding began anew, with the major effort being undertaken between 1887 and 1906 under the leadership of the Edward Pugh Munson family. It was during this period that the beautiful Tiffany stained glass window was sent to New York for restoration and was reinstalled above the altar. With a renaissance of spirit at work in Christ Church, it continues to hold weekly services for its small, but growing, membership. Friend of Christ Church, Inc., has assumed the responsibility of maintaining the church and cemetery. While the majority of the members are descendants of the founding families, membership is open to all having an interest in preserving the historical richness of South Louisiana.