Civil War Museum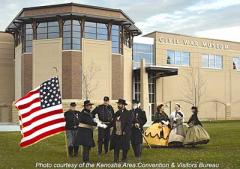 Through state-of-the-art museum technology, life-size dioramas, and interactive engaging exhibits, visitors travel back in history to the social, political and economic influences that contributed to the Civil War.
The 15,000 square feet permanent exhibit gallery tells the stories of those whose lives were changed by the Civil War and how those people shaped the course of American history. This gallery showcases significant Civil War artifacts important to the regional and national Civil War story using life-scale, interactive exhibits, and audio and video technology.
From the homefront, to the railroad and waterways, to the battlefront and back home again, the Civil War is seen through the eyes of soldiers, nurses, spouses, children, clergymen, slaves, tradesmen, and the others who lived it. Experience the battlefront, the incredible logistics and resources that were required to mount the war effort, and the deep emotions that tore families apart.