Clinton House State Historic Site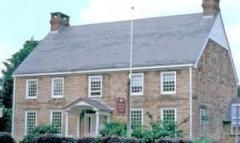 The Clinton House served as a meeting place for local goverment officials when Poughkeepsie served as the capital of New York from 1777-1783. After a fire in 1783, General George Washington's New Windsor Cantonment ordered carpenters to rebuild this important structure. In addition to repairs, the house was enlarged and the present stairway was constructed at this time.
Today the Clinton House serves as the base of the Dutchess County Historical Society and the Franklin Butt Library.