Clyfford Still Museum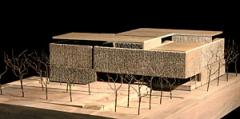 The building will provide intimate, architecturally compelling spaces for the study and enjoyment of the museum's extraordinary collection, which encompasses some 2,400 works spanning Clyfford Still's career and is one of the most comprehensive single-artist holdings in the world.
The design for the museum envisions a dense, cantilevered structure, unified through the use of a single building material—a highly textured and resurfaced concrete, that will modify light on both the exterior and interior of the museum. The two-story building will accommodate a series of light-filled galleries with varied ceiling heights on the upper level. On the first level, glass walls will allow visitors access to view works in the museum's onsite conservation laboratory and storage areas, in addition to a library, the archives and interactive kiosks.