Colossal Cave Mountain Park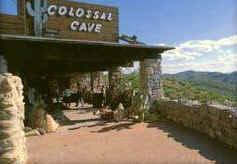 Among the mammals, Pack Rats, Deer Mice, Spotted Skunks, Striped Skunks, Ringtails, Foxes, Badgers, Raccoons, Javelina, Bobcats, and Mountain Lions all call Colossal Cave Mountain Park home. And, of course, bats.
The tour route is a half mile long and takes about 45-50 minutes to complete. As your guide relates the Cave's history, legends, and geology, you walk down and back up about six and a half stories and see beautiful cave formations like stalactites, stalagmites, flowstone, boxwork, and helictites.