Confederate Memorial Park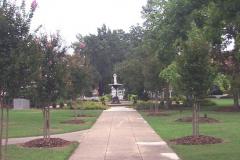 Confederate Memorial Park is the site of Alabama's only Old Soldiers Home for Confederate Veterans. In operation from 1902 to 1939, the home cared for elderly veterans, and wives and widows of veterans. The site included 22 buildings consisting of cottages, a hospital, dairy barn, mess hall, an elaborate water and sewage system, and Memorial Hall, an administration building which held offices, a library, and a large auditorium. The home served between 650 and 800 residents. The majority of veterans served in Alabama outfits, but many were from other Confederate states and moved to Alabama after the war. The last veteran died at the home in 1934. The facility closed in 1939 when the five remaining widows were moved to Montgomery for better care.

Features of the 102-acre site include two cemeteries, Mountain Creek Post Office, Marbury Methodist Church, nature trail, covered pavilions, a museum containing artifacts from the Alabama Old Soldiers Home, and uniforms, weapons, and equipment used during the Civil War.