Constitution Gardens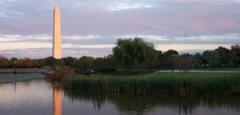 Constitution Gardens is a living legacy to the founding of the republic as well as an oasis in the midst of a city landscape. The 50 acres of the park were originally beneath the Potomac River. A U.S. Army Corps of Engineers dredging project at the turn of century created the land that became Potomac Park.
Beginning in World War I, the navy maintained "temporary" office buildings on this site. Nicknamed "Tempos," these structures remained until the 1970s. President Richard M. Nixon, shocked that the buildings he had served in as a naval officer were still marring the landscape when he entered the White House, began lobbying for their removal. When the Navy finally withdrew from the buildings, they were demolished in 1971. President Nixon ordered that a park be built on the land, leading to the creation of Constitution Gardens.
The Gardens were dedicated in May of 1976 as a living legacy American Revolution Bicentennial tribute. In July of 1982, the 56 Signers of the Declaration of Independence Memorial was dedicated on the small island in the lake.