Coplay Cement Company Kilns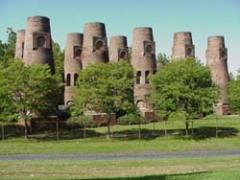 The kilns were soon superseded by rotary kiln technology that required very little labor to operate. In 1904 the company shut down its vertical kilns and in the 1920s demolished the surrounding buildings and removed the upper 30 feet of the kilns. Lehigh County acquired the kilns in 1976 and launched a rehabilitation campaign. The restored and stabilized kilns now house a cement industry museum. Not only do these structures represent the transition in kiln technology from the bottle or dome kiln to the rotary kiln, but they stand as a fitting monument to the pioneering role of David O. Saylor, the Coplay Cement Company, and the Lehigh Valley area in the development of the American portland cement industry.
Several years before he constructed his first cement plant in 1866, Saylor purchased the land where it and the future mills of the Coplay Cement Company would be located. His first mill, often referred to as plant A, where he made his first portland cement in 1871, was utilized well into the 1890s but was demolished early in the 20th century. In 1892, eight years after Saylor's death, the Coplay management, faced with a growing demand for its product, decided to erect a new mill, and eventually 11 Schoefer kilns, which were a Danish modification of an upright kiln originally developed in Germany were built. Constructed of locally made red brick, these kilns were utilized for the production of portland cement.
By 1900, this region provided the nation with 75 percent of its cement and had been the scene of a number of technological breakthroughs like the development of the rotary kiln. In the long run, this growth, which was made possible by Saylor and his company, enabled the United States to become the world's leading producer of cement, manufacturing by the 1920s four times as much as Great Britain, its nearest competitor.